China's internet celebrity imperative
September 7, 2020
Forget Chinese pop stars, actors and TV personalities – internet celebrities (locally referred to as wang hong) – are darlings of the country's online media with millions of devoted fans. They're the superstars of the internet, earning upwards of $21m a year – and that's at the lower end of the scale.
Having effectively established themselves as their own economy, they've reached the top of China's KOL (key opinion leader) tree; take model-turned-fashion designer Zhang Dayi – with more than four million Weibo followers she has been known to make upwards of 5,000 sales just seconds after posting new photos of herself modelling her latest line. The breadth and depth of Zhang's influence has help garner a portfolio in excess of $46m last year – more than China's highest-paid actress.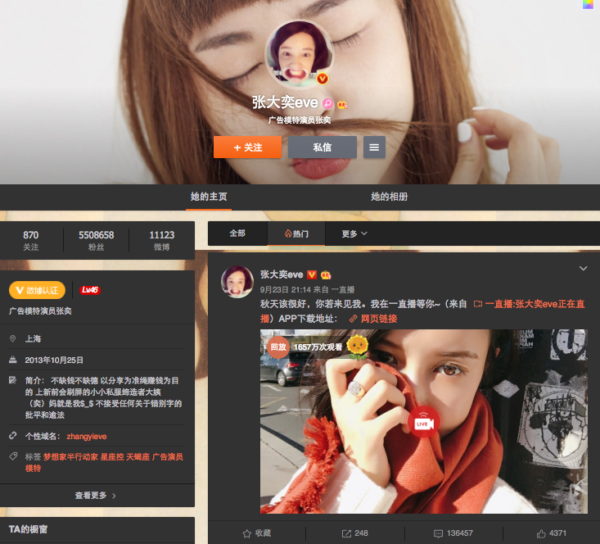 Zhang Dayi's Weibo homepage
So, what do wang hong do to command such astronomical pay checks?
They work at it
Online is such an instant medium that it would be easy to assume these cyber celebrities have achieved overnight fame. Piggybacking on this prevalent opinion, training centres have been popping up all over the country promising to teach wang hong wannabes everything they need to know about becoming an internet sensation. But, like any lasting success, the truth is these digital stars have worked at building their reputation for years – some for more than a decade – and while newcomers may be able to make an initial splash, their average online life expectancy is no longer than a blip.
Major internet stars spend hours working up to seven days a week, to provide a steady flow of entertaining content to their fans. This helps them maintain their profile to keep followers engaged because digital popularity is ephemeral at best.
They have something unique to offer
Getting, and holding on to, the trust of millions of people is no easy feat. Those who have reached elite levels of online stardom usually have substance as well as style. Like Zhang Dayi and fellow fashion designer Ling Ling, many design and promote their own clothing ranges and have a keen eye for what their fans want to purchase, built over years of experience. Others, from comedian Papi Jiang and her outspoken commentary (one of her videos reached 100,000 views within two minutes of being posted) to 'fashion twins' Qiangkou Xiaolajiao, are much in demand for brand endorsements – names such as Vogue and Dior were happy to provide a range of their best products in return for a collaboration with the latter. This is because they have the ability to not only reach but actively affect the purchasing decisions of millions of people – Qiangkou Xiaolajiao have built their following to around 5 million since they made their debut in 2008, and each follower has a fanatical devotion to the twins and their opinions on style and high fashion.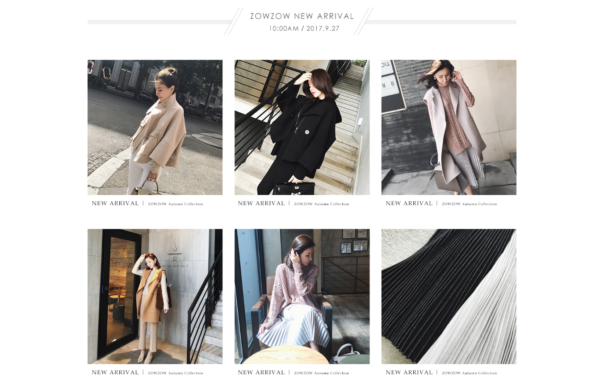 They can achieve what no single brand can in terms of engagement
Besides reach and relevance, wang hong also represent value for money. Securing the promotional talents of a cyber celebrity doesn't necessary require a heavier investment – if your product or brand proposition is high enough and fits with their ethos, you can access their services in exchange for allowing them to sell your goods for a share of revenue. If you consider what it would cost in terms of a time and monetary investment to engage such a sizeable and already-enthusiastic audience across a range of online media, social networks and digital formats including video and image-based content, the trade-off for a relatively generous percentage of sales will still work out as a small fraction of cents in cost per engagement. It's really not possible for brands, even those with the heftiest budgets, to replicate the promotional power of wang hong because it has taken them years of dedication and thousands of pages of content to cultivate their following. In terms of both sales and brand promotion, it's a win-win situation.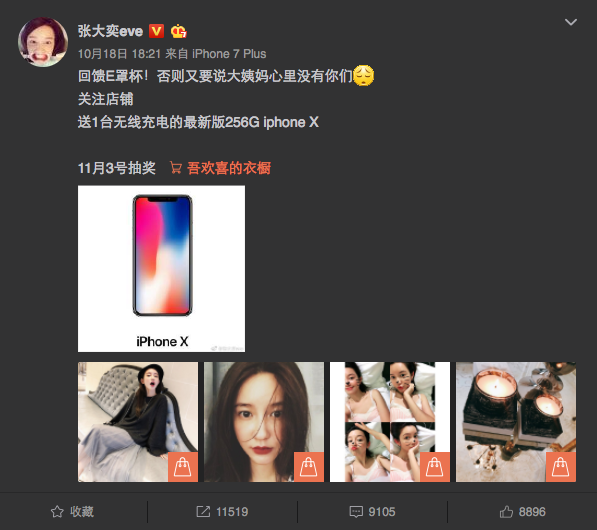 …Because they're worth it
As with any story which captures the public's attention, the hype surrounding wang hong and the seemingly outrageous amounts of money they earn for 'just' appearing online needs to be balanced with fact. The ones with longevity who can provide a ROI have worked hard to build their followings and they are selective about the types of promotional advertorial content and promotional deals they choose to engage in. This create a sense of authenticity for their 'celebrity' endorsements which can influence consumer preferences and purchases.
This article is also on WGSN Insider.